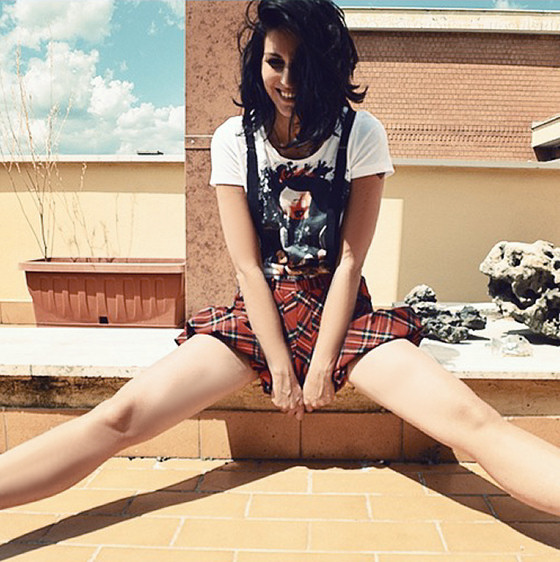 Era da un po' che la mia amica BB teneva nascosta nell' armadio una gonna in tartan che mi aveva subito colpita, non appena l'ho vista avevo già in mente un piano su come e quando rubargliela ma soprattutto avevo immaginato subito come abbinarla. Escluso a priori il look classico, in pieno stile BB ma assolutamente fuori dal mio, l'avevo immaginata perfetta abbinata ad una t-shirt dalle linee pulite ma con una certa personalità, un qualcosa tra l'hard rock e lo street style.
Ma, certo come la morte, quando cerchi una cosa non la trovi mai e per settimane sono rimasta invaghita di un look immaginario che non riuscivo a creare. Poi ho scoperto No Logo Fake Fashion, un'azienda made in Italy, o meglio "total made in Rome", come da motto, che utilizza cotoni organici per creare t-shirts classiche ma dal sapore dissacrante e anticonvenzionale. Sfogliando la nuova collezione ho trovato tutta una serie di magliette "tra il sacro e il profano" molto originali. Quando ho ricevuto la t-shirt BiancaBomba ho pensato "sono io"! E il look immaginario ha visto finalmente la luce. Bretelle incluse.
Read it in english
For some time my friend BB  was hiding into her wardrobe a tartan skirt that immediatly loved.  I imagined it matching with a t-shirt with clean lines but with some personality, something between hard rock and street style.
But, sure as death, when you look  for something you do not find ever and for weeks I was in love with a ideal look that I could not create. Then I found No Logo Fake Fashion, an Italian, or rather "total made ​​in Rome," as its motto, which uses organic cotton t-shirts to create a classic, but unconventional and irreverent t-shirts. Looking the new collection I found a whole series of T-shirts "between the sacred and the profane" very original. When I got the t-shirt BiancaBomba I thought "That's me!" And the ideal look finally saw the light. Braces are included.