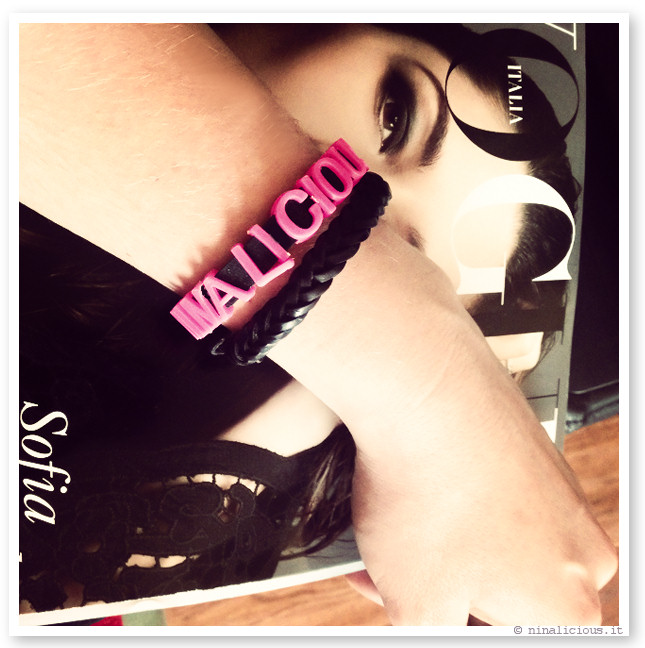 Chi mi conosce lo sa, quando giro per la casa come posseduta fumando freneticamente una sigaretta come fosse l'ultima della mia vita, beh, si salvi chi può, è giornata da bollino nero. Una di quelle in cui ti svegli e senza una particolare ragione ti manca il respiro, la vita ti strappa l'aria dalla gola, ti alzi, ti guardi allo specchio e pensi oddio, oggi odio tutti, e realtà non ti sopporti neppure da sola. Le donne ci sono abituate, con noi gli ormoni ci giocano a palla, un giorno sei felice, il giorno dopo vorresti far esplodere il mondo, almeno una volta al mese gli sbalzi di umore sono ordinaria amministrazione. Il problema è che non è QUEL giorno, quelli sono i giorni rossi. Oggi è nero, nero pece.
Prendi il telefono, vai nei numeri di emergenza e chiami le tue due migliori amiche. Altro che 118 e 119, quelle due farebbero resuscitare anche i morti. "May-day may-day,  giornataccia, ho messo lo smalto blu, c'è il sole, usciamo, avete 30 minuti, vi porto a fare shopping." Frasi sconclusionate, mescolate a caso come in preda a deliri febbrili. Me le immagino, chi ancora assonnata nel letto, chi impegnata a studiare per la laurea imminente, annullare tutti gli impegni e farsi il segno della croce pensando: il demonio è tra noi, corro. Sarà che ho le amiche più fighe del mondo, ma certe giornate, loro, le riconoscono dallo squillo del telefono, gli basta sentire il tono della mia voce per decifrare il messaggio criptato tra parole senza senso.
I particolari della giornata sono trascurabili, le nostre di solito sono avventure surreali, ma non è questo il caso, questo è solo shopping tra amiche. Ovviamente gli acquisti fatti nelle giornate nere sono potenziali bimbominkiate (anzi data l'età io le chiamerei "vecchieminchiate") che fungano da eccitante per l'autostima. Ovviamente da trasformare in oggetti cult. Come il bracciale con lettere in gomma di H&M che spicca fanatico tra gli acquisti "seri". So già che quest'oggetto mi ricorderà per sempre qual è il kit di sopravvivenza per giornate lunatiche: uno smalto blu, le mie Marlboro rosse, un telefono carico,  due soldi in tasca, un braccialetto autocelebrativo e loro, le amiche, linfa vitale per una moody loony come me.
Read it in english 
Anyone who knows me knows that when I am around the house as held frantically smoking a cigarette as if it were the last of my life , well, is a black dot day. One of those where you wake up and without a particular reason you can not breathe , life rips the air by the throat, you get up , you look in the mirror and think, "oh God,  I hate everyone"and actually you hate even yourself . Women are used to , hormones are cruel with us , one day you're happy, the next day you would like to blow up the world, at least once a month mood swings are usual. The problem is that it is not THAT day , those are red days . Today is black, very black .
Get on the phone , go to emergency numbers and call your two best friends . More that 118 and 119 , those girls would also resurrect the dead. " May-day may- day , bad day , I put the blue nail polish, the sun is shining , let's go out , you have 30 minutes, let's go out for shopping . " Rambling sentences , randomly shuffled as in the throes of delirious . Me guess , who sleepily in bed, who undertook to study for the upcoming graduation , cancel all commitments and begging God, thinking "the devil is among us" . Maybe I have the coolest friends in the world, but some days , them, recognize my bad days by the ringing of the phone, just to hear the tone of my voice to decrypt the encrypted message between gibberish.
The details of the day are not interesting , our adventures are usually surreal , but this is not the case , this is just shopping with friends. Obviously purchases made in the dark days are potential silly things to act as exciting for self-esteem. Of course, to be transformed into cult objects . As the rubber bracelet with letters H & M that stands between purchases fanatic "serious" . I already know that this object will always remind me what is the survival kit for moody days , one blue nail polish, my Marlbor , a phone, a penny in my pocket , a self-celebrationd bracelet , and friends , lifeblood for a moody loony like me.