Tempo fa mi capitò di leggere un articolo su Glamour in cui venivano elencate le caratteristiche di una perfetta fashion blogger. Eventi mondani degni di una rockstar, selfies e foto scattate dovunque e comunque, look da diva. Mi sono fermata a riflettere: sono davvero una fashion blogger che si rispetti? La risposta è: probabilmente NO.
Non amo intrufolarmi in ogni evento a cui io vengo invitata, non amo fotografare il mio cibo, preferisco mangiarlo, anzi divorarlo, come ieri sera quando dopo aver assalito un filetto danese ho pensato "dannazione, avrei dovuto fotografarlo..gnam mmmphm gnam…be va beh" dimenticando in un nanosecondo la "terribile" mancanza. E per quanto riguarda il look, beh se dovessi stilare una top list dei miei capi essenziali sarebbe: t-shirts, sneakers, maxi camicie, maglie da uomo e….ho già detto t-shirts?
A tal proposito, chiacchierando con Francilla, ho scoperto che il suo maritozzo Michelangelo Brancato, tra le mille qualità ha anche quella di essere da qualche tempo un interessante fashion designer. La sua estrema anima creativa lo ha spinto a dar vita a Coreterno, un brand Urbanwear e Homedecor davvero originale che, leggendo la sua filosofia, non solo rispecchia perfettamente lui ma anche me! Le sue t-shirts sono semplici ma geniali, dal sapore gotico-noir-psycokillermood con un pizzico di personalità tra il rock e il vittoriano. Un mix freakalicious quanto basta a farmi desiderare ogni sua singola creazione.
Chi l'ha detto, quindi, che una maglia è una cosa semplice? Forse chi non ha una personalità da trasmettere attraverso un semplicissimo pezzo di stoffa. Bando alle classificazioni, non è qualche sciocco luogo comune a stabilire chi e cosa sei ma soprattutto se capisci qualcosa di moda. E aggiungo, con simpatica presunzione, un punto alla classifica stilata da Glamour: sei una vera fashion blogger se la t-shirt è il tuo capo "must have ever" e quelle firmate Coreterno in particolar modo.
Visita Coreterno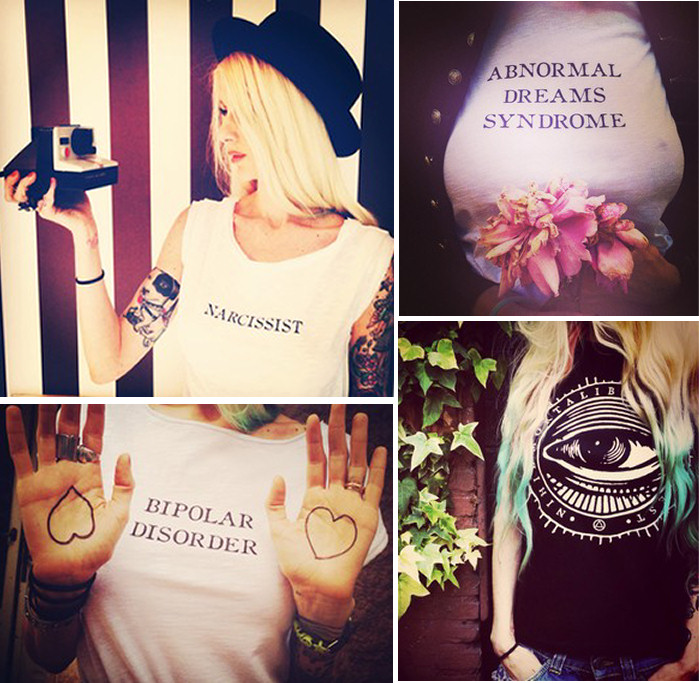 Read it in english
Some time ago I've read an article on Glamour in which were listed the characteristics of a perfect fashion blogger. Social events, selfies and pics anywhere and everywhere, look like a diva. Time, for  me, to think about: i'm really a fashion blogger? The answer is "probably NO".  I do not like go at every event that I get invited, I do not love pic my food, I prefer to eat it, like yestarday when after eating a Danish meal I thought "damn, I had to photograph it .. yum yum … well mmmphm okay " forgettingimmediatly the" terrible " mistake. And about the look, well if I think about a top list of favorites clothes it could be: t-shirts, sneakers, mxi men shirts and…i already said t-shirts? Chatting with Francilla, I discovered that her husband Michelangelo Brancato is also an interesting fashion designer. His extreme creative spirit made him to create Coreterno, a brand Urbanwear and Homedecor really original. His t-shirts are simple but brilliant, gothic-noir-psycokillermood with a hint of personality between the rock and the Victorian. A mix freakalicious enough to make me want every single creation. Who said, therefore, that a t-shirt is a simple thing? Perhaps those who do not have a personality to be transmitted through a simple piece of cloth. It is not some silly cliché to determine who and what you are, but especially if you know anything about fashion. And I would add, with nice conceit, one point at that list compiled by Glamour: You're a real fashion blogger if the t-shirt is your "must haves ever" and those signed Coreterno in particular.